About Us
Brooklyn Community Estate is a skilled nursing facility dedicated to providing superior standards of care in services for the aging. We are committed to making a positive difference in the lives of each resident and creating an environment where residents can encounter solace of life, experience wellness in body and in spirit and construct meaningful relationships with others. We are guided in our endeavors by the humanity, compassion, and intellect of an interdisciplinary team of professionals.
Founded in 1966, we have provided quality services to customers in Poweshiek and surrounding counties for the past 50+ years.  Our ability to retain key staff members in the administrator, director of nursing, assistant director of nursing, social worker, activity coordinator, dietary supervisor, housekeeping, bookkeeping and maintenance supervisor positions have allowed the facility to fine tune the delivery of quality and compassionate care to our residents and community.
Our Facility
Offering a range of amenities and
activities, we offer a warm
atmosphere and facilities that our
residents are pleased to call home.
National Quality Award Program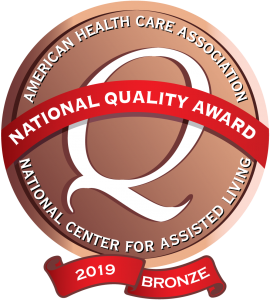 Recipient of the 2019 Bronze National Quality Award.
The American Health Care Association/National Center for Assisted Living's (AHCA/NCAL) National Quality Award Program provides a pathway for providers of long-term care services to journey towards performance excellence. The program is based on the core values and criteria of the Baldrige Performance Excellence Program:
Leadership
Strategy
Customers
Measurement, analysis, and knowledge management
Workforce
Operations
Results
The program has three progressive step levels: Bronze, Silver, and Gold. Facilities must achieve an award at each level to progress to the next.